Benefits of Exterior Window Shutters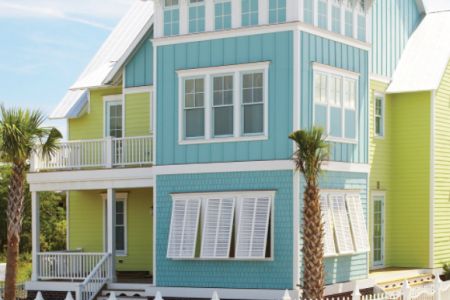 Are you looking for easy, affordable ways to improve and enhance your home? If so, exterior window shutters could be a great start! Exterior window shutters are often an underrated addition to a home, even though they support arguably the most important feature of it-- the windows. They were originally used to control light and provide privacy, but over time, exterior shutters have evolved into a relatively vital window feature. In this article from your Bluffton custom shutter company, you'll learn about exterior window shutters and the benefits they could offer to your home.
Increase In Curb Appeal
One of the most obvious benefits of exterior window shutters is that they can beautify your home. There are endless decorative options when it comes to window shutters, from design to color to style and more. They are an easily customizable, affordable way to give your home a more classic, elegant look. Shutters have been accessories of windows for hundreds of years, and often emulate a timeless beauty that one might get from a Victorian mansion. Consider giving your home and windows a facelift with exterior shutters.
Protection From The Elements
If you live in an area prone to wind, rain, and storms, exterior shutters are an effective way to protect your glass windows from these elements. During storms with intense wind, debris can be thrown against your windows, causing extensive damage and dangerous cleanup after the fact. With exterior window shutters to provide window storm protection, your windows will be protected from weather risks year-round so you can rest easy the next time a storm warning pops up on your television screen.
Improves Privacy And Security
If your home's windows face a public area or you just don't want anyone to be able to see inside your rooms, exterior window shutters are a great way to give you extra privacy. With shutters, you can choose how much or how little of your interior space can be seen from the outside without sacrificing lighting. Exterior shutters can also add a sense of security to your home. If you live in a crime-prone area, you'll feel protected and secure when you close your shutters at night, which lowers the risk of anyone trying to break your windows to enter.
Higher Energy Efficiency
When you have exterior window shutters installed on your home, perhaps one of the best benefits is lower energy bills. Shutters can be easily closed on hot days to keep sunlight from raising the temperature inside, and they can also be opened on cooler days to let a breeze in. Not only are they versatile, they also provide an extra layer of insulation to your windows, meaning your air conditioning unit will work at its best and strongest.
Count On Us
If this article has convinced you that exterior window shutters are the right choice for you to make on your next home improvement project, trust Seaglass Windowscapes for the best professional custom shutter installations, including exterior and interior shutters. We serve Bluffton with the utmost dedication and care, so call us today to learn about how we can help with your exterior shutter installation!
CALL TODAY FOR ALL YOUR WINDOW TREATMENT, STORM PROTECTION AND AWNING NEEDS IN THE LOWCOUNTRY!