Superior Quality Bluffton Window Blinds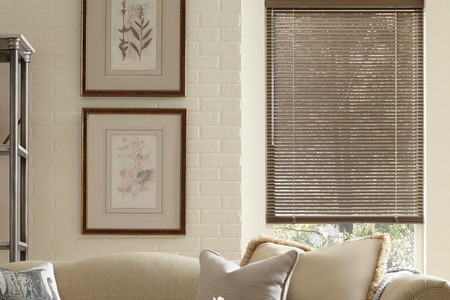 Seaglass Windowscapes prides itself on providing the highest-rated service in Bluffton when it comes to high-quality window blinds. The choice of window blinds as a window treatment affords the maximum amount of control over light diffusion. Retractable cords, cordless, and motorized operating systems offer modern innovations that make your blinds safer for pets and children and create a clean, polished aesthetic. Whatever your style, when it comes to window blinds, we've got you covered! Seaglass Windowscapes is the leading authority on blinds, window shades, and custom shutters for Bluffton, so call for a free estimate today.
Wood Blinds
With their classic and elegant look, the simple functionality of wood blinds makes them a great choice for any style of home. They're appropriate for simple and minimal designs to modern and lavish. Our wood blinds are easy to operate, clean, and maintain, offering you privacy and precise light control. We carry and install all the best natural wood options in premium custom blinds from all of the most trusted brands. Our wood blinds pros are happy to offer you all the beautiful styles you are looking for in a large selection of colors, textures, materials, and finishes for your home. Find your perfect wood blinds today by scheduling a complimentary consultation with our design specialists. We take care of the measuring and installation to ensure your new wood blinds fit perfectly. Ask to see our selection today!
Metal Blinds
Metal blinds are usually made of aluminum, meaning they're incredibly durable, easy to maintain, and overall more affordable compared to wood blinds. Due to their makeup, they're great at reflecting light and heat, so tropical climates would highly benefit from metal blinds. The only downside is that they can be a little noisy and sharper than your average window blind!
Vertical Blinds
For residential applications like sliding glass doors and wide bay windows, vertical blinds are the most functional and aesthetically pleasing. On the other hand, for Bluffton businesses, vertical blinds are perfect for window walls and other large-scale commercial window settings.
Seaglass Windowscapes offers vertical blinds with fabric panels, blackout panels, and many other materials with endless color, opacity, and texture options. Because vertically operational glass doors and windows are often used for larger windowed spaces, they let in more light, which creates more heat and makes those bright, sunny spaces harder and more expensive to cool in the summer months. Vertical blinds can control the light entering your rooms and make them more energy efficient, which saves you money on utilities in the long run. Our experts will custom fit your vertical blinds to perfectly frame and fill your windows and glass doors.
CALL TODAY FOR ALL YOUR WINDOW TREATMENT, STORM PROTECTION AND AWNING NEEDS IN THE LOWCOUNTRY!