Awnings For Bluffton Properties - Providing Cover From Heat, Light, & Rain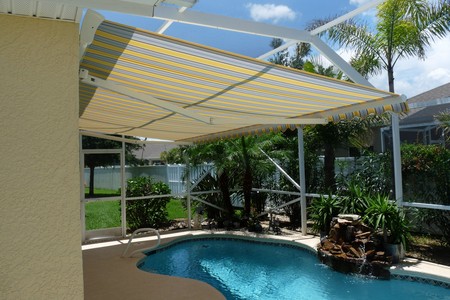 When you want a simple yet effective way to add style and functionality to your Bluffton home's outdoor spaces, awnings from Seaglass Windowscapes are a great choice. We are the area's reliable window treatment company providing awnings as well as other products like window shades and custom drapery.
Awnings are a durable window covering option that are designed to withstand harsh weather elements and stand the test of time! Whether you want them to protect your home's windows and doors or to give your friends and family a shady place to relax when they spend time outside, this product enhances and beautifies your exteriors while also making them more functional.
You can trust our team to provide you with the highest quality awnings as well as custom shutters for Bluffton. We have a wide variety of options for you to choose from that give you the flexibility you want most in choosing what's best for your home. Call us today to learn more about the benefits of awnings or to get a free consultation from our team today.
Retractable Awnings
Retractable awnings give you the power to change the look of your home's exterior and the amount of sun or shade it receives during the day. You can pull the awning out for parties or outdoor meals and once everyone has gone home, you can retract the awning to give your property a more open look. You can choose awnings from our team in just about any size, fabric, or color you like, making it easy to give your home a stylish new look while also making the most of the sun (or lack thereof).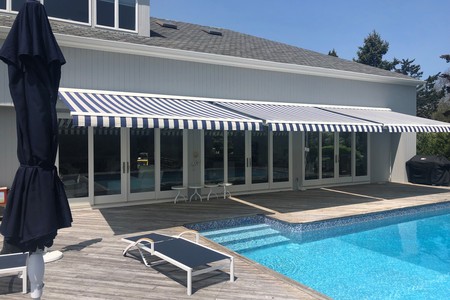 Stationary Awnings
The addition of a stationary awning will give your home a permanent boost of appeal and performance. These window treatments can help keep your home cool year-round and lower your utility bills, as well as protect your windows and doors from UV rays and other elemental damage. You're sure to find an awning that will fit your home from our range of available styles and colors!
Metal Canopies
Metal canopies are a durable, practical way of protecting different parts of your Bluffton property. They can provide a number of applications, both residential and commercial, ranging from carports to schools! When you call Seaglass Windowscapes for a metal canopy, we custom-build each project related to your specifications and install them ourselves. Due to their durability, our metal canopies can endure the hardest climates and weather elements while still looking great.
Commercial Awnings
Any kind of business in Bluffton can benefit from a fabric awning! They can create more usable space outside of your business while also making your exteriors more attractive to customers and providing protection from rain, sunlight, and more. They can come in a variety of shapes and sizes, from square and dome to A-frame and Venetian, and in any color you can imagine. Make the call to Seaglass Windowscapes today for your commercial awning!
CALL TODAY FOR ALL YOUR WINDOW TREATMENT, STORM PROTECTION AND AWNING NEEDS IN THE LOWCOUNTRY!