Seaglass Windowscapes Is Bluffton's Best Custom Shutters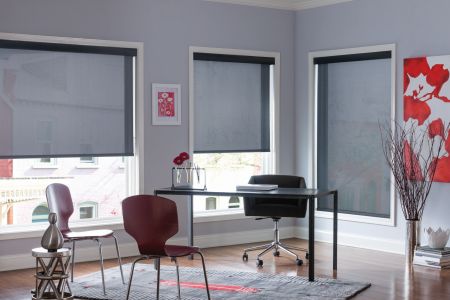 Choosing between custom shutters, blinds or any other type of window covering is mostly a matter of taste. But having the input of a Bluffton window treatment company can help you come to the best conclusion. Aside from variances in appearances, there are also some functional differences that could impact the decision-making process and, of course, your budget also plays a key role. All of this is why it is so important to partner with our experts here at Seaglass Windowscapes. We take great pride in our ability to provide our customers with the information that they need in order to make a good decision when it comes to their window coverings. This also means making sure that you get the best products, workmanship for measurement and installation, and all-around best customer service. Call Seaglass Windowscapes when you want all of this and more from a custom shutter company in Bluffton.
Choose Rolling Window Shades For Your Home In Bluffton
When many homeowners think of window shades, roller shades are what often come to mind. Roller shades are a classic window shade option whose design has changed very little over the years. But just because their design hasn't changed much, doesn't mean these shades are relics by any means! Roller shades come in a wide variety of different fabric options and different styles, giving you a great degree of versatility when it comes to incorporating them into your home's design. As their name implies, roller shades are designed to roll up and out of the way into their self-contained housing when you don't need them and can be rolled down when you're looking to reduce glare. This simple and effective design has ensured that roller shades aren't going anywhere anytime soon.
Bluffton Homeowners Love Our Custom Blinds Made Of Wood
When you want a way to bring a bit of warmth and natural beauty to your Bluffton home's interior design, new wood blinds can be a wonderful way to do so. Wood blinds are easily one of the most popular window blind options on the market today, and for good reason. Wood blinds can add a great deal of value to your home, as well as provide you with an effective way to help improve the level of comfort inside your home by better insulating the area around your windows. Wood blinds come in a variety of different wood types and colors, making them very versatile in terms of design.
On the other hand, if you want the beauty of natural wood, but you don't really feel like paying the price tag that comes along with it, faux wood blinds can be a wonderful alternative. Faux wood blinds give you the same beautiful appearance of natural wood, but don't require as much in the way of maintenance in order to keep them looking their best, not to mention they are a bit cheaper than their natural wood counterparts.
Reviews and Testimonials for Seaglass Windowscapes in Bluffton
CALL TODAY FOR ALL YOUR WINDOW TREATMENT, STORM PROTECTION AND AWNING NEEDS IN THE LOWCOUNTRY!